Extend the life of your cranes.
Crane modernization helps preserve your initial investment while giving you the advantages of a new, upgraded crane.
With a modernized crane, you don't have to make the difficult choice between limiting your production to your current crane capacity or duty cycle, risking your equipment or worker safety by pushing your crane beyond its limits, or buying a completely new system.
Our engineers and technicians work with you to determine the most practical way to achieve your safety, productivity and efficiency goals.
TYPES OF UPGRADES
Re-span or otherwise modify used equipment to suit your building
Add new wiring
Add radio, cab or pendant control
Add variable frequency drives
Add new or customized mechanical components
Update weighing systems
Add anti-collision and other safety systems
Add warning light systems
Automate with PLC controls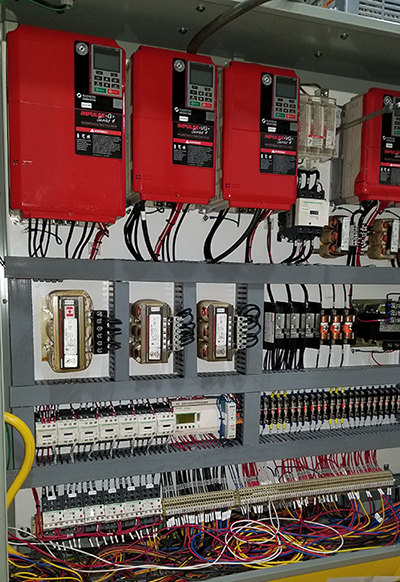 IMPROVED PRODUCTIVITY

An upgraded crane can offer faster speeds, more precise positioning, and increased crane and runway capacity.

REDUCED DOWNTIME

A modernized crane puts less stress and wear on crane parts, decreasing the likelihood of breakdown. Replacing obsolete parts helps avoid long lead-times if a breakdown occurs. New electrical panels are easy to interpret and diagnose, decreasing maintenance and repair time.

REDUCED COSTS

A modernized crane will usually require fewer costly repairs and use less energy. It may also need less (or less expensive) maintenance.

INCREASED SAFETY

Add safety features and technology such as perimeter lighting to reduce the potential for collisions, increase operator freedom of movement and increase safety of maintenance staff.
Have a question? Let us help.